IEEE Pandemic Challenge - Project Symposium
To view complete details for this event, click here to view the announcement
IEEE Pandemic Challenge - Project Symposium
---
Project Symposium - IEEE Pandemic Challenge - August 14th 12:00 - 3:00pm
---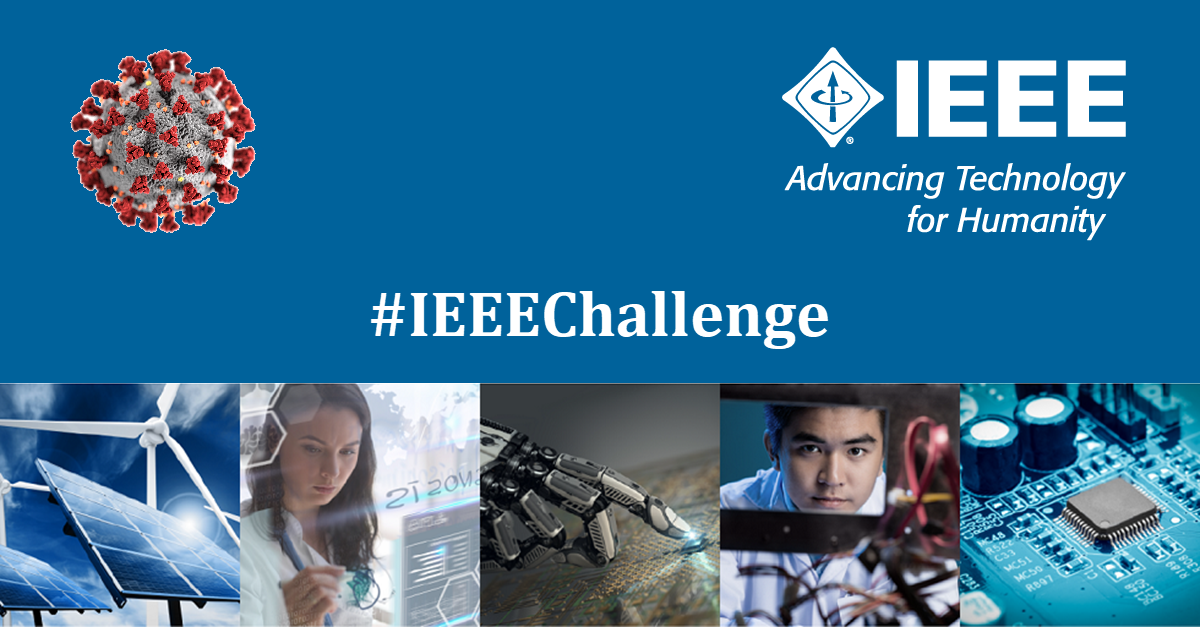 Since early spring, the Richmond Section has been hosting a Pandemic Challenge where teams of high school students, university students, and bright early career professionals join with experienced professionals serving as mentors to solve pandemic-related problems. These problems have been brought to us by local businesses, government organizations, and independent individuals.
These teams of Challengers have been working hard on their problem solutions for as long as 6 months and we are now ready to showcase their work at a Project Symposium, to be held live at the VCU Engineering Research Building and remotely via Zoom.
We have taken steps to secure equipment and plan our virtual component so that it is both engaging and entertaining. Please feel free to join us at the VCU Engineering Research Building, or visit us via the Zoom Link in the Location information column below. If you are using Zoom, please sign on prior to 1:00pm for the presentations. Each team will have a separate table where they can showcase their work. Zoom attendees willl be able to "visit" each table by wandering freely between the breakout rooms on Zoom.
Due to the pandemic, any in-person attendees need to be fully vaccinated and wear a face mask. This includes minors.
Read more about the Pandemic Challenge here - https://r3.ieee.org/richmond/covid/#main
Information about the problems here - https://r3.ieee.org/richmond/covid/covid-problems/
We are always looking for Mentors, Problem Owners, Challengers, and of course Sponsors! Please reach out if you would like to participate in next year's IEEE Challenge, with the challenge theme TBD.
The Richmond IEEE Pandemic Challenge Team
Email : Richmond_Covid@ieee.org
*Agenda Below*
---
Date and Time
Date: 14 Aug 2021
Time: 12:00 PM to 03:00 PM
All times are EST5EDT
Add Event to Calendar
Location
There will be held both live and via Zoom at https://vcu.zoom.us/j/97611383217.
VCU Engineering Research Building
Richmond
United States 23284
Building: Engineering Research Building
Room Number: 1313
Hosts
Registration
Starts 07 August 2021 07:35 PM
Ends 14 August 2021 11:55 PM
All times are EST5EDT
No Admission Charge
Menu: I will be attending in person, I will be attending virtually
Agenda
12:00 – 12:30: Arrival and Presenter Set-up
12:30 – 1:00: Lunch and Meet & Greet. Zoom link goes live.
1:00 – 2:00: Formal Project Presentations
2:00 – 2:30: Open Table Session + small group Q&A with Presenters
2:30 – 3:00: Special Thank You Ceremony
Project Symposium - IEEE Pandemic Challenge - August 14th 12:00 - 3:00pm
---