The Road Less Travelled: Tales From Along the Journey
Subject

: The Road Less Travelled: Tales From Along the Journey

To

:
OUs: R70007 (London Section)
Membership Grades: Honorary, Associate Members, Members, Senior Members, Fellows, Life Members, Life Seniors, Life Fellow, Graduate Student Members, Student Members, Include Society Affiliates
Membership Status: Active, Arrears

Reply To

: "mahsa bataghva shahbaz" <mbataghv@uwo.ca>

Private

: No
The Road Less Travelled: Tales From Along the Journey
---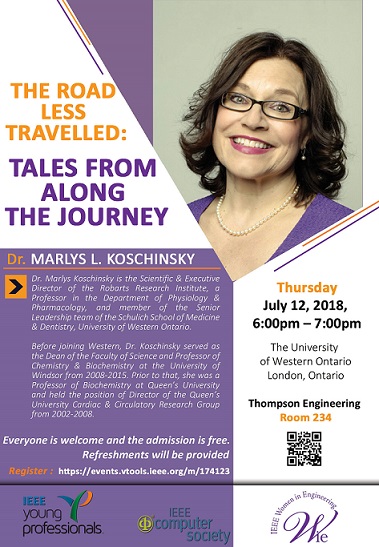 The presentation will cover the development of Dr. Marlys L. Koschinsky's career as a female scientist in a university setting including challenges encountered and lessons learned, as well as how to identify, cultivate and embrace leadership roles in academia.
Date and Time
Location
The University of Western Ontario
London, Ontario
Canada
Building: Thompson Engineering Building - Room 234
Contact
Registration
No Admission Charge Ends 11 July 2018 10:00 AM
Speakers

Marlys L. Koschinsky
Dr. Marlys Koschinsky is the Scientific & Executive Director of the Robarts Research Institute, a Professor in the Department of Physiology & Pharmacology, and member of the Senior Leadership team of the Schulich School of Medicine & Dentistry, University of Western Ontario. Before joining Western, Dr. Koschinsky served as the Dean of the Faculty of Science and Professor of Chemistry & Biochemistry at the University of Windsor from 2008-2015. Prior to that, she was a Professor of Biochemistry at Queen's University and held the position of Director of the Queen's University Cardiac & Circulatory Research Group from 2002-2008.
---