DronArjun'23 - A Mentor-Mentee Program to Nurture Research
Dear IEEE Members,

We are excited to announce the launch of DronArjun'23, a transformative research-mentoring program brought to you by IEEE Pune Section in collaboration with the IEEE Sensor Council Chapter, Pune Section. DronArjun is designed to empower aspiring researchers, offering a unique opportunity for mentorship and research exploration.

Program Overview:
DronArjun is a three-month research program where experienced 'Dronas' will guide enthusiastic 'Arjunas' through their research journey. Participants will choose their research area, and a problem statement will be provided to them. Throughout the program, dedicated mentors will closely monitor the progress of mentees, ensuring a rich and rewarding research experience.

Who Should Participate:
- Students seeking mentorship in their area of interest.
- Students passionate about research and innovation.
- Students eager to write and present their research work under expert guidance.
- Students looking to enhance their research and development skills for future career prospects.

Special Perks:
- Free Registration.
- Exclusive access for IEEE Student Members.
- Opportunity to present your research paper at PuneCon 2024.
- Technical Sponsorship to support your research endeavors.

Program Timeline:
- 17th September: Registration Opens: Sign up for this exciting research program.
- 15th October: Solution Presentation: Showcase your innovative solutions to the provided problem statement.
- 15th November: Review Meeting: Share your progress, receive guidance, and collaborate with mentors to overcome challenges.
- 30th December: Project Completion and Exhibition: Present your research projects to the world.

Don't miss this incredible opportunity to embark on a fulfilling research journey with DronArjun. Registration is now open, and we encourage all eligible students to participate. CLICK HERE TO REGISTER.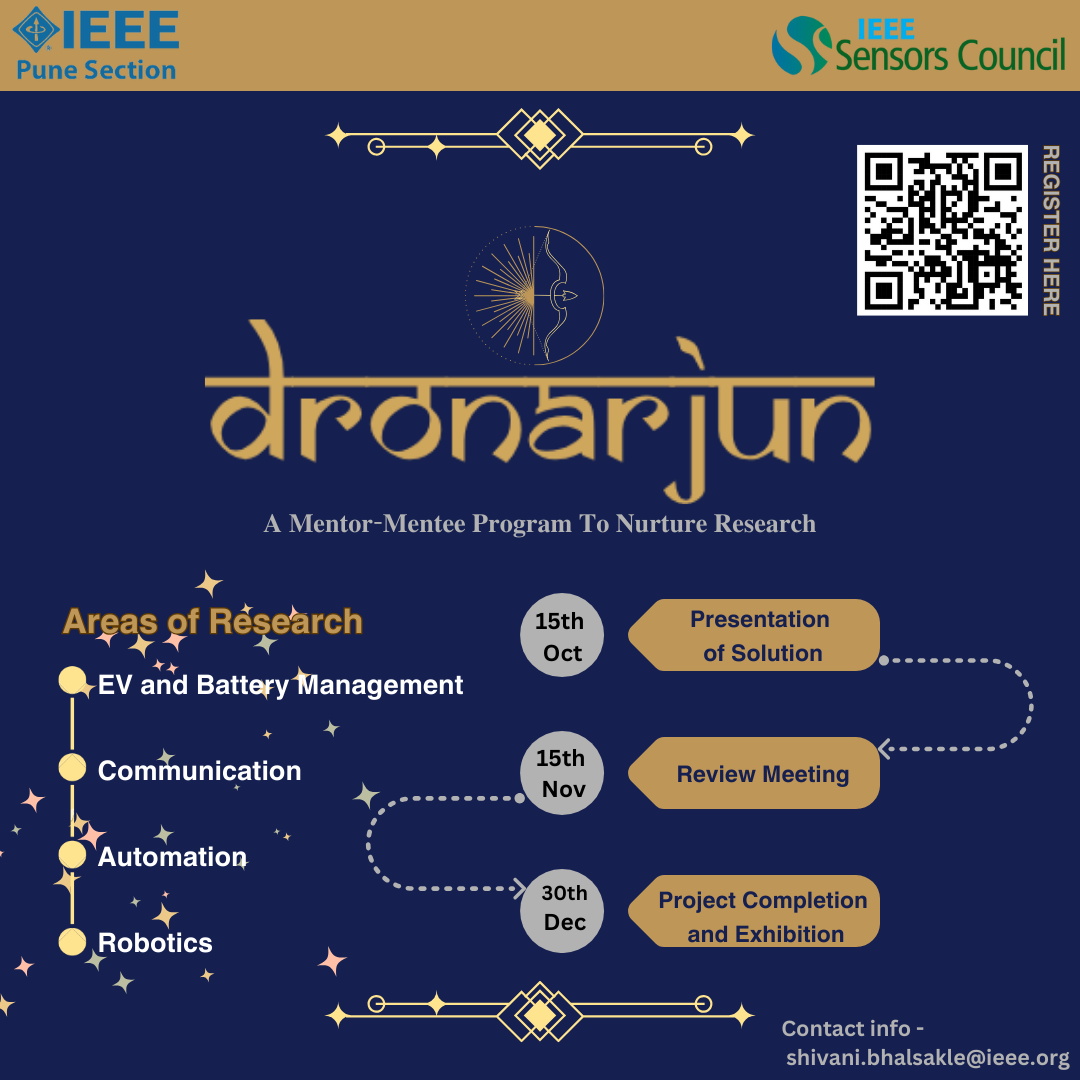 Join us in this research revolution and take your first step towards a brighter research-oriented future.

Best regards,
IEEE Pune Section & IEEE Sensor Council Chapter, Pune Section
---