Reminder: On-Chip Antennas: The Last Barrier to True RF System-on-Chip
To view complete details for this event, click here to view the announcement
On-Chip Antennas: The Last Barrier to True RF System-on-Chip
---
On-chip antennas combine antennas and other front-end circuits on the same silicon chip. This is common in CMOS and SiGe, two of the most common silicon technologies. From VHF to mmWave, RF CMOS is integrated into the RF System-on-Chip. complete answer to "antenna to bits" full system lineups, including baseband, converters, and RF FEMs On a single chip, advanced digital beam forming provides lower-power solutions. Discrete-time filtering solutions with SAW-less ADCs and DACs from MSPs to GSPs.
---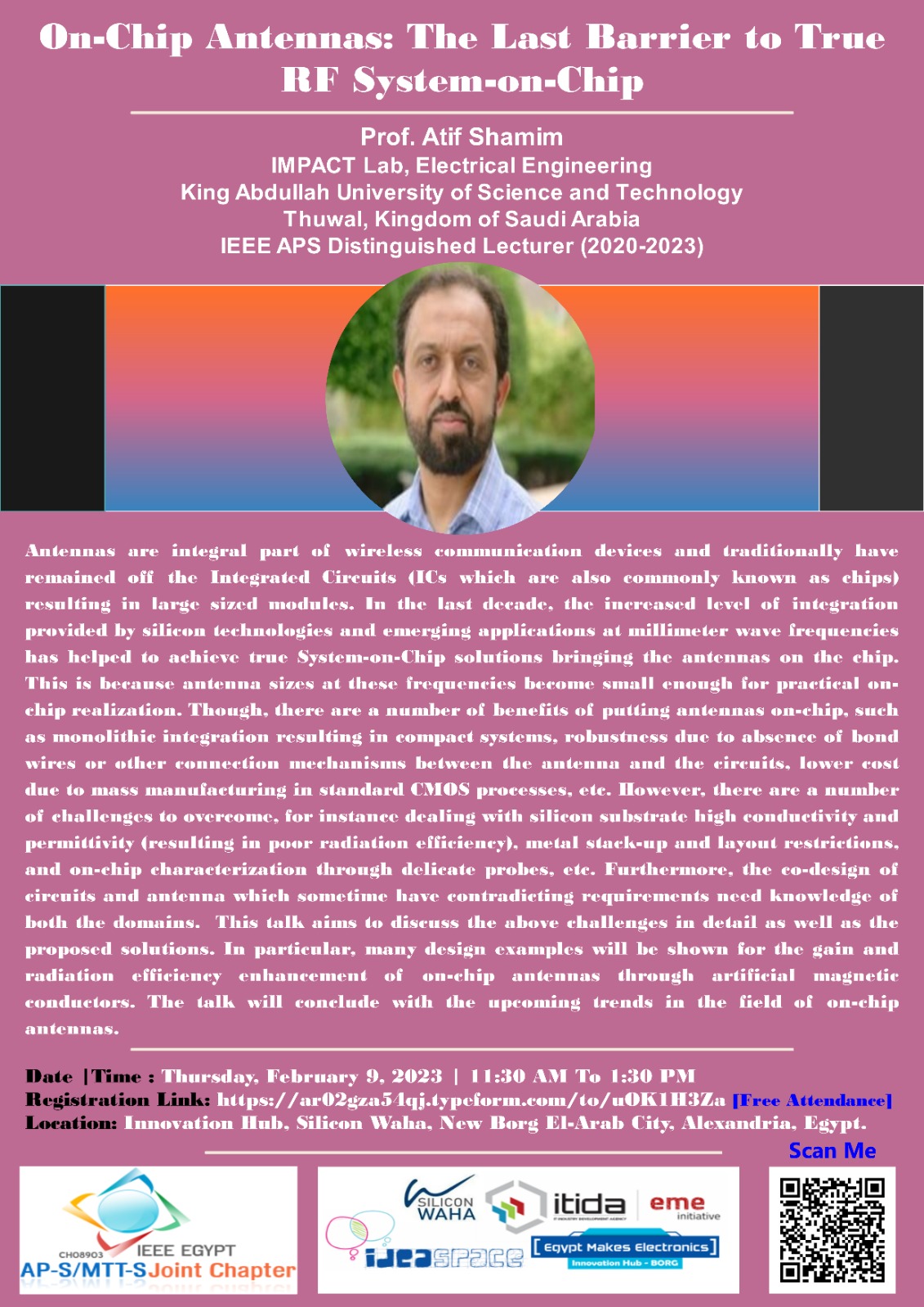 Antennas are integral part of wireless communication devices and traditionally have remained off the Integrated Circuits (ICs which are also commonly known as chips) resulting in large sized modules. In the last decade, the increased level of integration provided by silicon technologies and emerging applications at millimeter wave frequencies has helped to achieve true System-on-Chip solutions bringing the antennas on the chip. This is because antenna sizes at these frequencies become small enough for practical on-chip realization. Though, there are a number of benefits of putting antennas on-chip, such as monolithic integration resulting in compact systems, robustness due to absence of bond wires or other connection mechanisms between the antenna and the circuits, lower cost due to mass manufacturing in standard CMOS processes, etc. However, there are a number of challenges to overcome, for instance dealing with silicon substrate high conductivity and permittivity (resulting in poor radiation efficiency), metal stack-up and layout restrictions, and on-chip characterization through delicate probes, etc. Furthermore, the co-design of circuits and antenna which sometime have contradicting requirements need knowledge of both the domains. This talk aims to discuss the above challenges in detail as well as the proposed solutions. In particular, many design examples will be shown for the gain and radiation efficiency enhancement of on-chip antennas through artificial magnetic conductors. The talk will conclude with the upcoming trends in the field of on-chip antennas.
Date and Time
Location
Hosts
Registration
Speakers

Prof. Atif Shamim
Topic:
On-Chip Antennas: The Last Barrier to True RF System-on-Chip
Agenda
* Introduction to RF System-on-Chip.
* DL Invited talk.
* Discussions and Questions.
Date |Time : Thursday, February 9, 2023 | 11:30 AM To 1:30 PM
Registration Link: https://ar02gza54qj.typeform.com/to/uOK1H3Za [Free Attendance]
Location: Innovation Hub, Silicon Waha, New Borg El-Arab City, Alexandria, Egypt.
---